2016 February update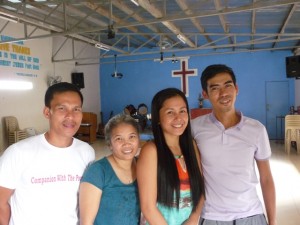 We recently arrived in the Philippines  where we have gone from experiencing -8° in Macedonia to +32° in Manila! We plan to visit and minister on 4 of the 7000 islands. As we approach the 20th anniversary of our charity AMEN , it was encouraging to visit Southville yesterday where funds have been given to enclose the gap between two houses to create a church building. The pastor, whose small house has been crowded each Sunday, is delighted. We also met with the community leader who was friendly & supportive. All this is being undertaken as a result of our long-term partnership with 'Companion with the Poor', an indigenous holistic Filipino organisation with 60 missionaries church planting amongst the urban poor.
We thank God for your friendship too.
Gareth ><> Malou Bolton
SCHEDULE in PHILIPPINES and UAE
Feb 3-10            Island of Batanes visit/ministry
Feb 12-17          Island of Palawan ministry visit
Feb 19-22          Island of Cebu church weekend
Feb 25-26          Meetings in Abu Dhabi
Feb 27-Mar 1     Meeting + dentist, Dubai
Wed Mar 2         Fly from Abu Dhabi to UK