2016 January update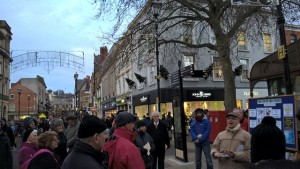 I rarely recall hearing a talk about this guy and have only ever discovered one (rather obscure) song that includes him. He never appears in any nativity play and never features on any Christmas card. Yet what he had to say about Jesus was arguably more profound than anything the shepherds and the wise men had to say. Significantly, while the shepherds and wise men had to travel to find Jesus, Jesus travelled to where he was! For me he is the forgotten Christmas hero. His name is Simeon. He famously declared, 'my eyes have seen your salvation which you have prepared in the sight of all people' (Luke 2:30-31). He realised the baby he held was the Saviour for the world. So the message is one of salvation that all need to hear. His simple mission statement still needs to be heard and followed today.
SCHEDULE for January 2016
Jan 1-4  Dorset with Mum Bolton
Sun Jan 3  STEPS Community Church, Sherborne, Dorset
Jan 9  AMEN Trustees Meeting, Yorkshire
Sun Jan 10  Elmstead Lane Baptist Church, Chislehurst, London
Mon Jan 11  Fly to Belgrade, SERBIA
Jan 12-21  Teaching a missions module (Gareth) and creative evangelism (Malou) at HUB.
Jan 26  Fly to UK
Jan 28  Fly to PHILIPPINES
Sun Jan 31  Diliman Bible Church, Manila (Missions Sunday)
Happy New Year.
Statistics for 2015: Beds 58; Meetings 290+; Flights 44; Countries 12: Colombia (123rd nation); France; India; Ireland; Malaysia; Philippines (x2); Romania; Serbia (x2); Spain; Switzerland (x3); UAE; USA (+UK
Gareth ><> Malou Bolton