Nov 2015 update
October saw our first visit to Colombia,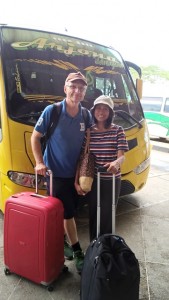 S America's fourth largest country. We experienced first-hand some of the recent church growth after finding that two of the churches we ministered in were only a few months old. There was a vibrancy and serious interest in missions that was most encouraging. We saw again how Latin America has become one of the new heartlands of the church over the last 50 years.
Friends, thank you for enabling us to serve through your giving, praying and encouragement.
Gareth ><> Malou
Click for a short video of our Colombia visit
(www.amentrust.co.uk)
 Future Schedule
Nov 2-5        Dorset with Mum Bolton
Sun Nov 8   Good News Church, Nis, SERBIA (NFI)
Nov 9-23     HUB, Belgrade, SERBIA (Teaching 1 & 2 Kings & Ezekiel)
Nov 27-29   Oak Hall Winter Team Weekend